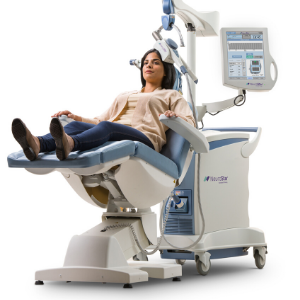 Transcranial Magnetic Stimulation
Take back your life from depression with transformational treatment: Transcranial Magnetic Stimulation (TMS) now available at Springfield Psychological.
Springfield Psychological has partnered with NeuroStar Advanced Therapy to offer cutting edge treatment to provide Transcranial Magnetic Stimulation (TMS) to adults who suffer from Major Depression and have failed to receive satisfactory improvement from prior antidepressant medication. In 2008, the Federal Drug Administration cleared the use of TMS, a non-drug, non-invasive treatment, that uses magnetic pulses to stimulate targeted areas of the brain to assist in safely and effectively treating adult patients suffering from Major Depression. NeuroStar TMS helps activate the natural function of the brain's neurotransmitters using a non-invasive magnetic field like that of a magnetic resonance imaging (MRI) machine. TMS uses a precise magnetic pulse that targets the treatment exactly where it needs to be. NeuroStar is not electroconvulsive therapy (ECT) and does not have the same mechanism as ECT. NeuroStar TMS has demonstrated significant, long- lasting improvement in patients with depression who have not traditionally benefited from the use of antidepressant medications and serves as the #1 TMS choice for doctors. Click here to view the How NeuroStar Works Video.
Indicated for Adult patients (18 y/o and over) who have not seen success with the use of antidepressant medication.
NeuroStar Advanced Therapy is backed by the most clinical research in TMS treatment for depression.
11 Clinical Trials and 23 Peer Reviewed Publications support the use of NeuroStar Advanced Therapy.
Patients are awake and alert during each treatment session and can resume activities immediately afterwards.
Each treatment is between 19 and 37 minutes, and therapy is 5 days a week for 4 to 6 weeks.
58% of patients treated experienced significant improvement in depressive symptoms.
37% of patients treated achieved full remission of their depressive symptoms.
Over 2.5 million treatments performed.
Over 850 NeuroStar systems providing treatment in 49 states.
Covered by most national insurance companies including Medicare.
NeuroStar Advanced Therapy TMS is available by prescription only.
To decide if NeuroStar Advanced Therapy TMS treatment is right for you please contact our office directly 610-544-2110 to schedule an evaluation with one of our medical providers. Currently, we are only offering this service at our office located at 1489 Baltimore Pike, Suite 250, Springfield, PA 19064.
To learn more information about NeuroStar Advance Therapy TMS please visit their website:  www.NeuroStar.com.
Advanced Therapy Fact Sheet : Click Here
BDM Core Message : Click Here